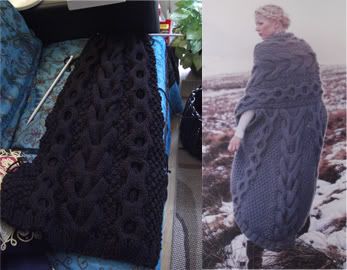 I am currently knitting a shawl from one of the Rowan magazines. I couldn't afford to do it in the Rowan wool suggested, so I've bought some King Cole Aero which still has 20% wool (and is loads cheaper!).

It's done in 2 sections - a scarf and the main body - and I'm just over half way through the scarf. It is not a very hard pattern but you do have to read every row cos its a double-row moss stitch instead of the normal reverse stocking stitch.

I have decided to use the cabling pattern on a shrug that I've adapted from a Vogue pattern you can get free off the internet. It's going to be a birthday gift so I'll post a picture of it when it's going to be imminently given away so not to spoil the surprise!